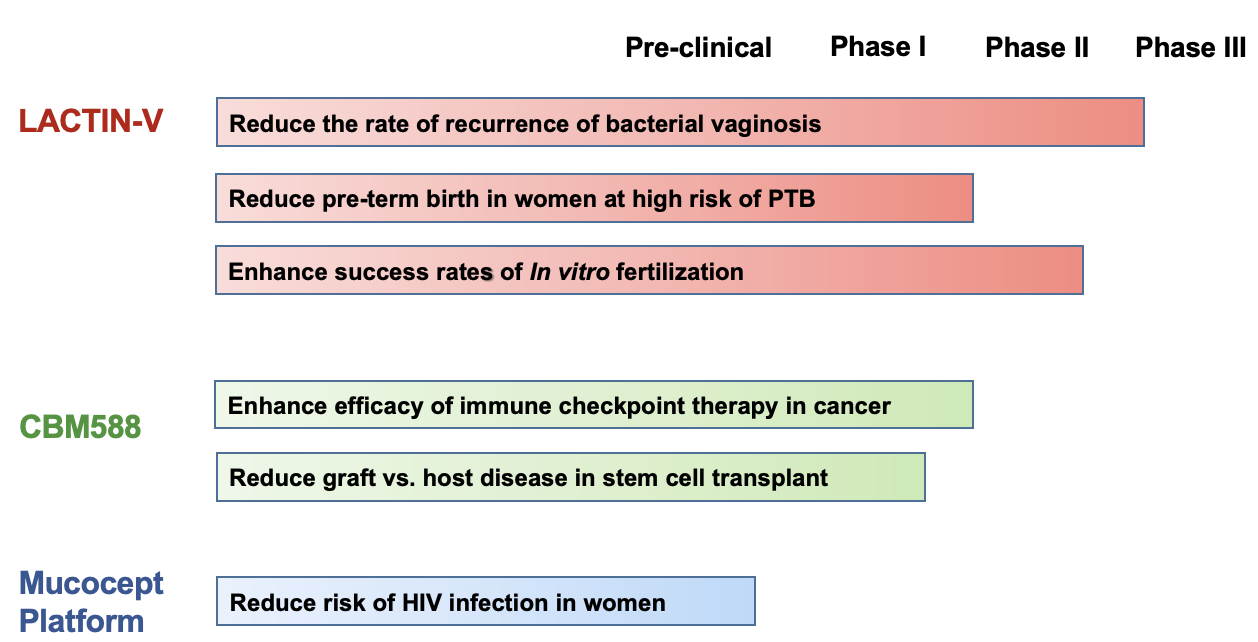 LACTIN-V
Osel's LACTIN-V is a live biotherapeutic product addressing women's health disorders. LACTIN-V is under development for preventing recurrent BV and preterm birth. It contains Lactobacillus crispatus CTV-05, a single strain of hydrogen peroxide-producing vaginal Lactobacillus that is part of the natural vaginal microbiome of many healthy women. It was selected for features that restore the vaginal microbiota, prevent urogenital infections and promote reproductive health. LACTIN-V targets clinical indications associated with dysbiosis of the vaginal microbiota where hydrogen peroxide-producing lactobacilli are depleted, such as bacterial vaginosis (BV). LACTIN-V reduces recurrent BV and preterm birth in women at high risk by promoting the colonization of L. crispatus. LACTIN-V is delivered vaginally with a proprietary applicator.
CBM588
CBM588 is an orally-administered Clostridium butyricum strain with a long history of clinical use and safety in all age groups in Japan. In Japan, CBM588 has primarily been used to treat infectious and noninfectious diarrheal disorders associated with dysbiosis of the human gastrointestinal microbiome. CBM588 inhibits certain enteric pathogens and supports colonic homeostasis by producing butyric acid. The strain also possesses novel immunomodulatory activities. CBM588 is being developed in the U.S. under an IND for prevention of antibiotic associated diarrhea, including Clostridium difficile infection. Two investigator-sponsored Phase 1 studies have been recently completed with CBM588 in hematopoietic stem cell transplant (NCT03922035) and advanced kidney cancer (NCT03829111) at the City of Hope Comprehensive Cancer Center. A follow up study with CBM588 in advanced or metastatic kidney cancer is currently in progress (NCT05122546).
MucoCept Technology Platform
Most viruses enter the body via mucosal surfaces. The natural microbiota at these sites, may neutralize some viral particles before infection of the host can occur. Using a proprietary technology, MucoCept harnesses the human microbiome and enhances it to further virus neutralization. In the current MucoCept platform technology, we have modified a commensal Lactobacillus to express a potent inhibitor of Human Immunodeficiency Virus type 1 (HIV-1). Proof of concept has been demonstrated in an animal model.